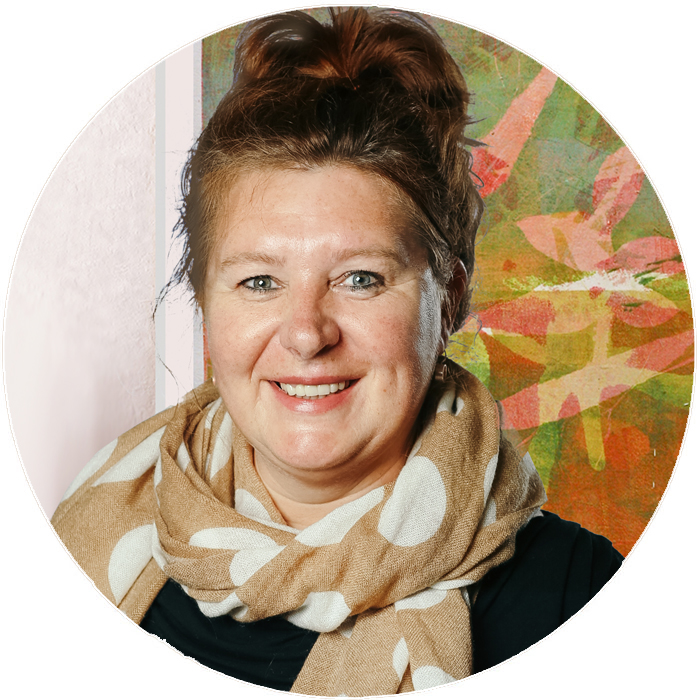 Angela Smets
"I am fascinated by details that most people might pass by. They strike me: tracks, shadows and structures. My art process begins with making sketches and then I will put them into graphics, which I compress – until completely new stories emerge. Overlays create rhythmic pictorial spaces. Is not that what we are all looking for: a story that says something about us and tells our world?"
"Nowhere has humans shown more ingenuity than in their games," said Leibnitz. As far as the Enlightenment seems today, he was right.
Free play is also the basis of Angela Smets work: Lithography, silkscreen, etching and painting, fresh colours and airy-light compositions; she connects them all playfully and perhaps here, as far as her origin is concerned, you will see the born border commuter.
Growing up in the mid-sixties near the Dutch border in Nordrhein-Westfalen, she moved to Munich at the age of 18.
She playfully starts her creative process, unhindered by rules or ready-made patterns. Her techniques mix with each other in an unidiomatic and experimental way.
The artist places nature and the traces she finds in it at the centre of her work. The charm of this subject is the inexhaustible wealth of wonderful inspirations.
As a graduate painter, she discovered printmaking quite late, but today combines both worlds with each other enthusiastically.
Angela Smets was born in Nordrhein-Westfalen in 1965. She studied painting at the Academy of Fine Arts in Munich.
She lives with her family in Munich.
In 2015 she joined the collective Dreipunkt Edition.