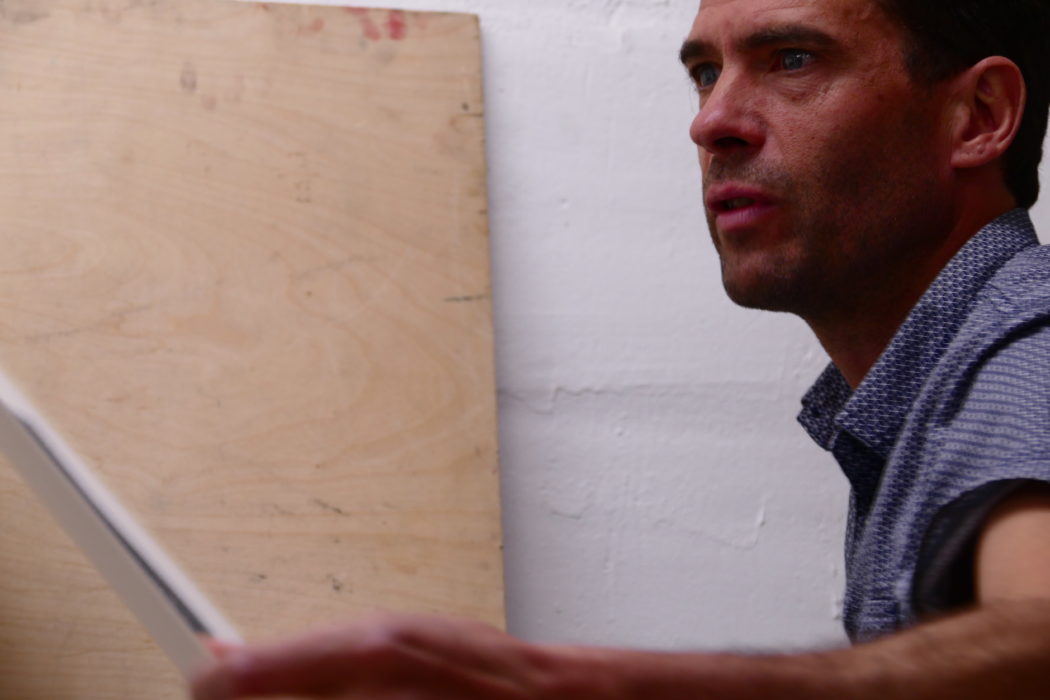 Clemens Büntig
Is there anything on earth – or in earth – that has never been a part of it or never will be?
During those four years that I lived in New York I mainly found nature in the people of the city and I expressed that in portraits. Since 2008, however, I have been exploring nature in my direct work with plants. It is in Mooseurach, 50 km south of Munich, where the tarmac road ends and my studio comes to life: meadows stretching wide, wild, untouched woods, through which small brooks gently meander, the deer and fox that come right up to the doorstep of my studio – all those make up my workshop and surround it. Sunsets, frog concerts at night, impressive cloud formations, the smells of freshly ploughed-up soil or of cut hay, tracks left behind by animals, puddles, fog that tears the landscape apart or rainshowers making all other sounds of this world appear irrelevant. Such are nature's wonders that become part of my work.
On the one hand there are these exciting shapes created by nature and which I mostly draw in their silhouette form as it is the backlight which keeps the secret of the object. After all, who really knows what makes the clover leaf grow?
On the other hand it is the freedom that can be sensed in nature and which I see as a principle and task. This freedom is a genuine part of my work process: chance, letting go of control, complete trust paired with a closely considered series of experiments and conceptual approaches to the creation of an image.
I am interested in encoding nature again and transforming it back into something mysterious and wonderful.
"How can you google what is unknown?"
In this endeavour I am assisted by printing methods of medieval craft which produced prints with inherent aesthetics rarely seen these days. Etchings from copperplates, corroded and scratched, oil paint on heavy deckle-edged paper. Impressions that raise the plant out of the paper, greasy paint, almost like an organic body, radiating into the viewer's eyes.
I would be most pleased if you would accept the invitation to immerse yourself in this world of images inspired by nature all around us.
Clemens Büntig was born in San Francisco in 1968. From the age of two he grew up in Bavaria, south of Munich, Germany. At 21 he left Germany on foot and walked to Gibraltar. He studied in Spain and Switzerland. After receiving his Diploma in Original Art Printing he moved to New York where he worked for Aldo Crommelynck as a printer and apprentice. Aldo Crommelynck was one of the world's best printmakers, who printed for distinguished artists such as Georges Braques, Joan Miró and Jim Dine. Crommelynck also put half of Picasso's graphic oeuvre into print.
After four years of residing in the metropolis of New York, Clemens Büntig moved back to Bavaria and started a family and founded his own print shop.
His work is exhibited nationally and internationally. For instance – among other locations – at the ISE Cultural Foundation Gallery (Between Ink and Paper – Three Printmakers' Vision at Front Space), in Soho, NY, where all his prints sold. A year ago he joined the artist collective Dreipunkt Edition and since exhibits in at the Royal Academy, Saatchi Galery and othe major Art fairs, next to different solo exhibits.
Burying himself in nature after his urban years in New York has helped his art gain focus and depth and has led to an authentic, distinct personal expression. The major solo exhibition Relations in the Orangerie in Munich in 2011 was evidence of this.
Clemens Büntig's art work feeds on what is nurturing. Since 2008 this has been mainly plants as one (of many) transporting medium and expression of the natural life force; also the movement of the wind, colour tones, atmospheres, patterns of the material used such as paper, copper plates or acid, time and process, relationships and social movements. In an ideal state Clemens Büntig experiences himself as a membrane, a transformer, and his prints as documents of all states of being. Plants serve as a solvent for humane states of being. Their growth triggers parallels to thought processes, inner emotional meandering or clarity of spirits. The use of color is used as an expression of qualities of the soul.